3rd Party Study
|
Cost Efficiency
Collective Health reduces healthcare cost trend by half over five-year period for studied customers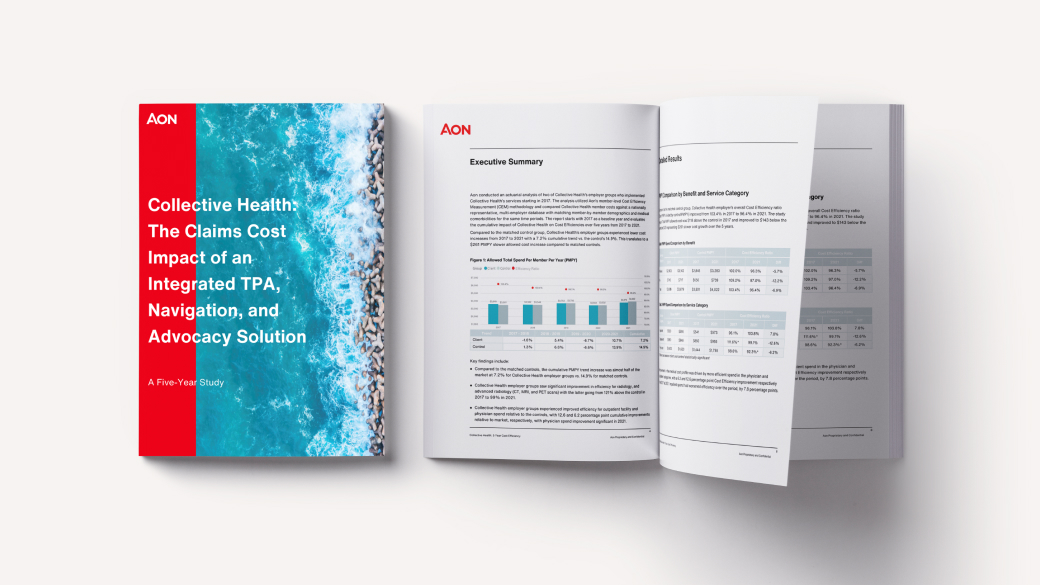 Better employee healthcare at a lower cost is possible.
In this new third-party study conducted by Aon, Collective Health's integrated health benefits solution was found to cut the healthcare cost trend by 50% over a five-year period and drive increases in member engagement rate for customers in the study. Savings were greatest for members with two chronic conditions, whose costs improved from $57 per member per year above matched control in year one to $1130 below control by year five.
In this third-party study, you'll discover how:
Healthcare costs over a five-year period for Collective Health customers in the survey were 7.2%, less than half of the 14.9% seen in matched controls.

Cost efficiencies were seen across all of the top 10 most prevalent conditions, including diabetes, hypertension, musculoskeletal, and behavioral health.

Members on the Collective Health platform engaged at high rates compared to industry benchmarks reviewed by Aon and engagement increased for members with multiple comorbidities.

High engagement rates correlated to favorable reductions in claims costs, especially for those with complex conditions.